Daybreak, by Brian Ralph
28 Oct 2011 ★ ★ ★ ★ ★☆
Buy the book
All Hallow's Read!
Give a book for Halloween!
Today's review can be seen as a recommendation on the Unshelved Book Club website! The Unshelved Book Club is a great place to find books to read. Each week on Friday they feature book recommendations.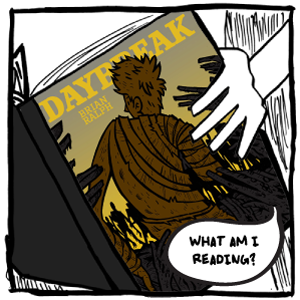 View my recommendation for Daybreak, by Brian Ralph
Daybreak was an excellent read. The Unshelved Book Club asks guest artists to use their own characters in their illustrated recommendations, so I used myself (drawn in an imitation of the style of Daybreak) to explore the central conceit of the book—the first-person viewpoint and treatment of the reader as a character in the story.
Good for: Fans of well-crafted graphic novels.
Spooky elements: I don't think it would be giving too much away to say the story involved zombies. But the real power of Daybreak comes from the way it involves you directly in the events of the story and its eerie ambiance, so that when something is frightening, you really feel it.